Qoo10's SEA Business Development Team (From left to right: Lynn Sen, Devin Hahm, John Yun and Jocelyn Yip)

Today, we speak to Devin Hahm from Qoo10's business development team about Qoolife (

http://www.qoo10.sg/shop/QooLife

), a new e-commerce concept aimed at delivering everyday necessities to customers within 2 days.

James:

Can you tell us a little about Qoolife?

Devin:

It's a new e-commerce concept which aims to deliver daily necessities to our customers within 2 days. We want to provide an online supermart experience for our users, where they can get nutritional, personal care and household cleaning products in one stop and have their items delivered to them in a short time.

The FMCG sector is a fast-growing sector for our site and our customers make repeat purchases for these goods. For example, our customers purchase more than $150,000 worth of diapers from the Pampers brand every month.




Brands and products you can find on Qoolife!


James: What brands and goods are sold on Qoolife?

Devin: We have quite a number of well-known household brands ranging from nutrition to personal care to household cleaning goods. You can get Dynamo detergent, Downy softener, Pampers diapers, Oral-B toothbrushes, Garnier facial washes and Pantene shampoo, just to name a few.


Free shipping via Ninja Van within 2 days for certain brands!

James:

What is the main benefit of QooLife?

Devin:

The convenience of having daily necessities delivered to your doorstep is a huge benefit most of us don't stop to think about. Here's a food for thought - a 12-piece carton of diapers, detergent and 1.5l pet bottles of water weigh around 7kg, 14kg and 18kg respectively.

Why do you have to make multiple trips to lug these goods from a nearby supermarket to your home when you could have them delivered in bulk at one time? Especially since brand loyalty is pretty strong for such goods and you're not going to try out a new detergent every month anyway.




Devin Hahm from Qoo10's SEA Business Development Team

James:

You're from Korea, where the e-commerce industry is so much more developed. Are there any cultural trends you would like to see replicated here?

Devin:

In Korea, the process of e-commerce purchases, from order to delivery, takes an incredibly short time. If you order something before noon today, you will have your items delivered to you tomorrow. So online shopping has become the norm, not the exception, because of its convenience compared to shopping in a physical store. So I would like to see an online shopping culture among SIngaporean consumers, where you buy something online and know that it will be delivered within two days.





Qoolife's Shopfront with Ongoing Promotions

James: Any exciting activities so far?

Devin: We recently launched Gillette's new razor, Fusion ProGlide with FlexBall Technology, on Qoolife and we received 790 pre-orders for the shaver before it's even launched in stores. Our customers also redeemed more than 10,000 complimentary samples of Swisse Vitamins in a recent launch. So we see it as a great and cost-effective channel to create awareness and build brand equity for new-to-market products as well.

Powered by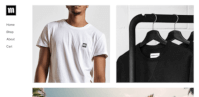 Create your own unique website with customizable templates.