Today, we are with Devin from Qoo10 to talk about their newest development, Q-store.

James: Devin, can you tell me a little about Q-store?
Devin: It's an add-on package to our existing e-commerce platform. Besides listing their products on Qoo10, our merchants can now customise their own website and mobile app, with functions like payment gateway and web hosting powered by Qoo10. These standalone websites will have their own .com domain and are linked to their Qoo10 shops, so all product listings and changes are synced and mirrored at the same time. Ultimately, we want to provide our merchants with a ready-made solution to build up their own brand and push out their own content and promotions easily.

James: So what are the functions supported by Qoo10?
Devin: Qoo10 merchants will get existing services like the backend inventory system, payment gateways and delivery tracking. Merchants will be able to send eDMs and mobile app pushes. They can send SMSes too, at $2 per 100 SMS. Most importantly, they can gain a wealth of database information and know who their customers are when they follow their Q-stores.

(Integrated Shopping Cart, Order Form and Payment Delivery)



​James: What are the advantages of having your own Q-store?
​
Devin: For merchants who want to build a loyal following, branding is a crucial element in their marketing efforts and Q-store allows them to own that space. Many aspiring blogshops want to be like Love Bonito but they don't realise how difficult it is to set up payment gateways, hosting web traffic and keeping their site secure.

(Cocomo.sg Q-Store and Mobile App)​

​

James:

How much does it cost to create a Qstore?

Devin:

The Standard package will cost $1,000 for creation of the website for the first year and an annual fee of $500 will cover web hosting and domain registration charges. The Advanced package will cost $10,000 for creation of the website and mobile app for the first year and an annual fee of $1,000 for web hosting and domain registration charges.

James:

Which of your merchants have already signed on?

Devin:

In Singapore, we have 30 participating merchants including Korean cosmetic brand Cocomo (

http://www.cocomo.sg/

), OneMart (

http://www.onemart.sg/

) and tempered mobile screen protector brand Nanotech (

http://www.nanotech.sg/

). In China, we have Paris Baguette (

http://www.pbcake.com/

).
Powered by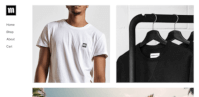 Create your own unique website with customizable templates.